Welcome to the Mountain Lakes Board of REALTORS®

.
This page will walk you through the Orientation Process as a new member. A requirement of membership is that you complete an Orientation and a New Member Code of Ethics Training within 90 days of membership approval. Please follow each link, watch each video and complete each task.
New Member Orientation Online Links:
(prior to taking the oath as a Realtor each new member must complete the following)

Step 1: Watch the following three videos provided by the NAR:

Welcome:
Safety:

Fair Housing:


Step 2: Review the NC Benefits Partners Program:
https://www.ncrealtors.org/business-center/#save

Step 3: Create a .realtor web address www.get.realtor.
(Click "Sign up" in upper right corner)

Step 4: Set up your ZipForms Account by using the link on the NCAR Site:
https://www.ncrealtors.org/business-center/#transact

Step 5: Log into Navica: https://navicamls.net

Choose: Mountain Lakes Account, click help in right upper corner.
Under help topics choose Navica Webinars & Tutorials.
Watch (at minimum) these two lessons:
1. Basic Search and Search Results
2. My Listings, Edit and Add Listings

Step 6: Complete required Code of Ethics Training. Class is available online on the NAR website:
https://www.nar.realtor/about-nar/governing-documents/code-of-ethics/code-of-ethics-training/code-of-ethics-training-for-new-members (under the Education Tab)

Once you have completed all tasks,
Step 7: Please print and complete the following questionnaire: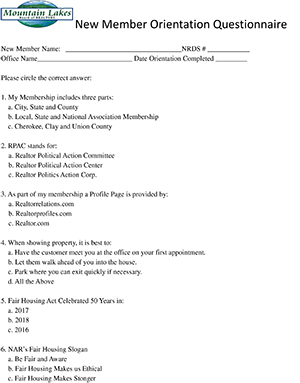 Step 8: Sign the document, then either scan and email it back to us or bring it to our next Member Luncheon.
(all questions must be answered on the document)
(You will also receive an email requesting your menu preference and RSVP)

At which time you will be officially sworn in as a Realtor®!